Everybody was Kung-Fu fighting.
Aside from the exquisitely gory Rune, online wars have been waged almost exclusively with guns. Don't get us wrong – we find no fault in Unreal Tournament's Plasma Rifle and feel perfectly at home with a Counter-Strike colt – but we sometimes ask ourselves, "Where's the damn kung-fu?"
The answer to that question lies in the not-too-distant future, and it is called Iron Phoenix. In development by Sammy and InterServ for the Xbox, Iron Phoenix is a kung-fu nut's online gaming dream, featuring a colorful cast of fighters, nine lethal weapons, a host of dazzling environments and some very creative play modes.
As the legend goes, an awesome meteor crashes into ancient China, creating a tremendous explosion that looks eerily like a giant, flaming phoenix. Bravely, a blacksmith ventures down into the crater after things cool off a bit and salvages the meteor's precious, magical metal, which he wisely crafts into weapons of mass destruction. As soon as the ninth and ultimate weapon is finished, he's assassinated and the mighty weapons are stolen. After many bloody wars, a legend arises that he or she who wields the nine weapons of the Iron Phoenix will also rule the Earth, radiation poisoning notwithstanding.
Before challenging your rivals for dominion, you must first choose a champion. Unlike most fighting games, Iron Phoenix's combatants only differ by way of their attributes. Female fighters generally get more stamina than males, who in turn are typically slower and stronger. Otherwise, every character comes equipped with the same bag of basic tricks. In a sense, the characters are incidental vehicles for the unique powers of each weapon. In Iron Phoenix, the sword swings the samurai.
With cool names like The Searing Dagger and The Feather Blade, the weapons all have their own ground moves, air moves, wall attacks, and combos. Attacking is handled with the X, Y and directional buttons, so every attack or combo can be intuitively executed.
But if you've seen Hero, you know that there's more to kung-fu than smashing things. Iron Phoenix demonstrates this nicely with its plethora of fancy moves, including jumps, double jumps, dashes, and dash jumps. You can also wall climb, wall hang, and wall-flip. If you're locked onto an enemy, you may either dash in a circle around them or simply bowl them over with blistering speed. All of these moves require stamina; if you run out your character will incur a serious movement-speed penalty. Fortunately, stamina regenerates by itself.
You can also pick up secondary weapons to throw at enemies, darts to drain stamina from a distance, and magical affects and gear to turn the tide of battle by granting some boon to you and nearby teammates. Check out the action firsthand in our exclusive Iron Phoenix gameplay trailer.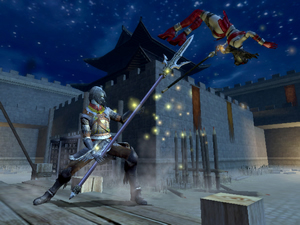 Since Iron Phoenix is primarily an online Battle Royal, Deathmatches will likely dominate the field. There are also a couple unorthodox play modes: Giant Kill and VIP.
In Giant Kill, two players become giants and attempt to slaughter everybody else. If a giant is killed, the humans win, and if a giant kills forty humans, the giants win.
VIP mode is more tactically involved, with each side trying to kill the other's leader. The leader can heal and resurrect his fallen teammates, so this mode becomes an interesting match of wits as each side tries to protect their leader, launch assaults, and guard the fallen corpses of slain enemies to prevent resurrection.
Any of Iron Phoenix's modes may also be played offline against a host of bots.
Iron Phoenix currently boasts detailed character models (careful thought clearly went into exhibiting cleavage in the ladies) and sweet lighting effects to go with the spells and special moves. The only iffy bit at this point is the camera, which can get a little crazy if you lock onto somebody in the middle of an intense fight.
With a moves list that puts Hong-Kong Phooey to shame and 16-player support in its innovative play modes, Iron Phoenix is shaping up to be a compelling first stab at multiplayer melee fighting. We'll find out what this warrior is truly made of when we apply our kung-fu grip to it in February.
For more screen shots, check out our Iron Phoenix screen and fact page.