Boneworks is one of the most popular PC VR titles out there. Players can pull off some insanely skilled stunts in the game, which has recently led to developer Stress Level Zero's virtual reality shooter becoming a viral social media sensation. Since the PlayStation VR headset has the largest user base, naturally, owners are wondering about a Boneworks PSVR port. So, is the VR physics game coming to PS4 and PS5? Here's the need-to-know on a PSVR version.
Is a Boneworks PS4 version coming out?
Boneworks is a physics sandbox that allows players to tackle situations in almost any way they see fit. This leads to some immensely creative solutions that are fun to execute and to watch. Just check out #Boneworks on TikTok for some cool examples of the game in action on PC headsets.
It's possible that Project 4, an in-development game featuring "Boneworks​' mechanics and core systems," will come to PSVR on PS4. The Boneworks developers are working on this version for Oculus Quest platforms, which would also make it a good fit for a PlayStation 4 port. As for the full version of Boneworks, it's unlikely that the game will launch on PS4 or PS4 Pro while utilizing the PSVR headset and Move motion controllers.
Realistically, PS4 consoles wouldn't be able to run the full game — just like the standalone Oculus Quest headsets. PlayStation Move controllers also lack the functionality needed to play Boneworks at its best.
Is a Boneworks PS5 version coming out?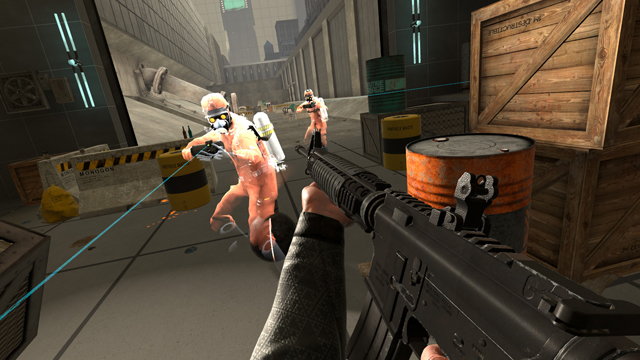 Boneworks could come to PS5 and the all-new PSVR 2 headset. When asked if Boneworks would come to PlayStation 5, a developer stated that the team will "at least [consider]" porting it to the console. That's with the caveat that the PS5 PSVR 2 motion controllers see improvement, which looks to be the case in this PlayStation VR controller patent.
The new consoles have plenty of power. If they get controllers that are at least at the level of Touch we'll conciser it.

— Brandon J Laatsch (@BrandonJLa) December 31, 2020
For more on Boneworks, check out if it's playable on Oculus Quest 2.