Elven Legacy [by Paradox Interactive], the sequel to Fantasy Wars, delivers a world filled with magic and thrilling nonlinear storyline, gauged to provide many hours of gameplay for strategy fans. Through an epic quest aimed to restore the former glory of the Elven race the game offers both depth and scope, all in colorful and inspirational settings. Play for elves or humans in two primary campaigns or for orcs in a wide variety of bonus missions. Using the accompanying tools players may create their own missions and campaigns and share them in multiplayer mode. (Press Release)
Heroes

Lord Sagittel
As the very pinnacle of elven valor, Lord Sagittel has been guarding the living forests of Quendaylon for centuries. His incomparable sense of duty has kept him from his chair on the Great Council in favor of serving on the field of battle. Sagittel's rich combat experience and keen wit has made him the envy of even the most skilled elven commanders. Those elves who wish to sharpen their skills with the sword and bow often seek out Lord Sagittel and devote themselves to learning from him.
Sagittel is the only elf who has been deemed worthy of possessing the weapons created by the true dragons.
– Possesses long-range capabilities
– Efficient attacker
– Lends long-range support

—
Gylven
One of the most powerful sorceresses of the Order of Watchers, the very essence of magic seems to flow through Gylven.. She has been carrying out special missions from the elven leaders for years, though her deft touch has mainly been used in the realm of politics and internal affairs of Quendaylon.
After the war with the demon Farrakh and the fall of the Great Council, Gylven was given the task of monitoring the spread of dark magic as it fouled the area around the stronghold of Sumgan. Humans and elves alike wanted to ensure that the creatures which had fallen under the influence of dark magic would not be able to escape the borders of the prohibited lands.
– Master of combat spells
– Efficient attacker
– Vulnerable in close combat
—
Father De Lande
Known for his devotion, Senior Inquisitor De Lande could have become High Priest were it not for his excessive zeal during interrogations. Indeed, his dark, wild enthusiasm took even Pope Ildebrad III by surprise.
Although the upper echelons of the church were closed to him, it was agreed that De Lande's considerable talents would best be put to use in the defense of the Parsa Monastery. This sacred place housed the most dangerous artifacts found by the Inquisition since the time of the Tirol Wars.
– Strong attacker
– Can learn to use powerful prayers
– Particularly efficient against monsters and heroes
—
Derrick Pfeil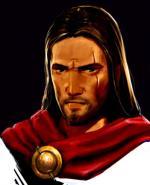 The mere mention of mercenary commander Derrick Pfeil's name is enough to instill fear in the heart of even the bravest warrior. His cold judgment and stern nature in tandem with his knowledge and tactical mastery has kept him from losing a single battle in all his years of command. The services of his mercenary army are not cheap, but he never lacks customers willing to pay dearly for their safety. A descendant of an ancient family, Pfeil inherited honor, nobility, excellent manners and the secrets of his ancestors' fencing school. One would be hard-pressed to find a more dangerous enemy throughout all the kingdoms.
Though given the title of Marshal during the devastating war with the demon, Derrick was soon given a much loftier title. Following the end of the conflict, he was crowned King of Leranse – the most powerful kingdom in all of Illis.
– Specializes in melee combat
– Efficient in attack and defense
– Increases skills of the nearest friendly units
—
Illair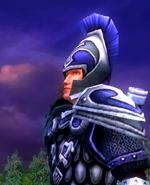 Having honed his considerable talents on the field of battle against Farrakh's foul creations, Illair has become a highly skilled swordsman. In addition to his supremely valuable qualities as a soldier and commander, Illair is a fiercely loyal friend, though he often chooses his company from among similarly experienced warriors. As such, it is perhaps unsurprising that he considers Sagittel to be his best friend.
– Strong attacker
– Well-protected
– Particularly efficient against monsters and heroes
– Improves the characteristics of the neighboring friendly units

—
Master Maverick
This powerfully skilled magic-user is one of Master Brennok's most talented disciples. Maverick's abilities made such an impression on the mages of Sylent that he was awarded a master's degree immediately after graduating from the academy. During the uneasy time of strife which soon followed, the young master was forced to fight shoulder to shoulder with his teachers on the battlefield.
– Master of combat spells
– Lends magic support
– Efficient against all types of units
– Vulnerable in close combat
Elf Conscripts
Despite the tales woven throughout popular lore, all elves are not masters of the bow from childhood. Many elves devote their lives to more esoteric pursuits, such as architecture, poetry, the sciences, and philosophy. However, this all changed when the first lord of Quendaylon ordered all elves wearing his colors to join the ranks of his army. While these conscripted elves may lack a natural gift for combat, their innately keen eyesight and firm hands have enabled them to quickly become skillful soldiers.
– Provide long-range support
– Move well through cross-country terrain

—
Elf Fencers
The heft of a well-balanced sword appeals more to these warriors than any bow ever could. They thrive on the thrill of close combat and the opportunity to look into the enemy's eyes before cutting them down. The unrivaled dexterity possessed by these elves guarantees that they will one day become unmatched fighters. For the moment, they still have much to learn.
– Core offensive unit
– Fight well on cross-country terrain

—
Veteran Fencers
The longevity of the elves is legendary, and these warriors have spent much of their lives mastering the art of combat through countless battles. Their swords know the taste of the enemy's blood well. Anyone who wishes to live to a ripe age will avoid these veterans on the field of battle.
– Masters of close combat
– Fight well on cross-country terrain
– Efficient in the attack and defense of towns
Сhosen Fencers
These elves don't just wield their swords – the bloodied steel seems to be an extension of their hands and a part of their very souls. They have devoted their entire being to their weapons, which is reflected in their cold disregard for all life including their own.
– Masters of close combat
– Fight well on cross-country terrain
– Efficient in the attack and defense of towns
– Well-protected
Elf Hunters
While a great deal of effort is required to become a true expert of archery, nearly any elf can become an excellent bowman. In fact, even the greenest of elven hunters can prove to be a deadly foe.
– Core ranged unit
– Move well through cross-country terrain
– Provide long-range support

Veteran Hunters
To send an arrow soaring through the eye or heart of an enemy is nothing special for these experienced bowmen. The whistle of an arrow hurtling through the air is the first and last sound heard enemies who dare to cross them in battle.
– Improved ranged unit
– Move well through cross-country terrain
– Provide long-range support
—
Chosen Hunters
Legend has it that the Chosen Hunters' arrows have eyes and are capable of seeking out their enemy with unerring accuracy. This may well be true, for these are not merely skillful warriors, but true poets of the bow. The wind is their parchment, the arrow's flight is their poem, and the inevitable dull thud of their enemy's corpse hitting the ground is the audience's applause.
– Excellent ranged unit
– Move well through cross-country terrain
– Increased field of vision
– Capable of noticing invisible arrows
– Provide long-range support
—
Elven Spears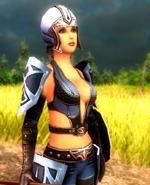 Though less effective than their well-armed brethren, elven spears are quite capable of holding back any number of bloodthirsty foes. Their razor-sharp points can stop many attackers in their tracks, provided that some rest is granted to the troops that wield them.
– Core defensive unit
– Fight well on cross-country terrain
Deer Riders
When the world was still young, the elves discovered how to speak with the inhabitants of Quendaylon's forests. Many of these creatures can now be found carrying beautiful warrior women on their backs as they charge into combat. The stately deer require no bridle, no stirrup, and understand commands without the use of words. Their antlers are as lethal as the weapons of their riders.
– Strong attack unit
– Cannot stop near an enemy when moving
– May spend movement points gradually
Battle Stag Riders


The notion that deer are harmless creatures is rapidly dispelled upon witnessing these particular animals goring their foes in combat. Battle stags are born fighters, well-armored and equipped with steel antlers capable of piercing even the firmest armor. These vegetarians know the taste of blood!
– Strong attack unit
– Cannot stop near an enemy when moving
– May spend movement points gradually
– Armored target
Flame Wardens


Flame wardens worship the essence of fire. During their preparations, they study the flame as though it were a living being and draw their strength from it. These guardians eschew the use of heavy armor, preferring live flame to cold steel. Some wardens have become guards for the Great Council, while others serve as defenders of Quendaylon.
– Mighty defensive unit
– Defend well against cavalry attacks
– Can learn regeneration
Thunder Wardens
These fierce defenders are able to bring the full power of lightning to bear against any who dare stand against them. The blows of their battle-axes bring certain death, shearing through armor and stopping even the strongest attacks. Many a fallen enemy has felt in the instant prior to their passing that the angry rumble of a raging thunderclap has pierced their very soul…
– Mighty defensive unit
– Defend well against cavalry attacks
– Increase the defense of the neighboring friendly units
– Can learn regeneration

Wild Dragon
While these near-mythic creatures possess the ferocity of true dragons, they appear to lack the same mental capacity. Wild dragons are lethal magic beings, with claws and flames only slightly less dangerous than those of their mighty ancestors.
– Aerial scout
– Lend support to friendly units
– Efficient for killing a weakened enemy
– Efficient against air targets
Dark Dragon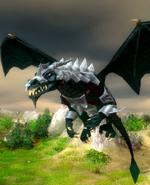 Dark dragons, foul copies of the noble creatures which gave their power to Essentil, are indifferent to the destiny of humans, elves and all living beings in general. Magic attracts the dark dragons and they only deign to obey those who possess incomparable mystical power.
– Aerial scout and interceptor
– Lend support to friendly units
– Efficient against aerial targets
Skyship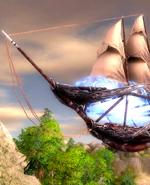 The elves rule both earth and sky: their sails flutter not only on ships navigating the seas of Illis. The ancient elves have sufficient magic skill to raise a ship to the skies and attack the enemy from above.
– Efficient against ground targets
– Can attack ground-based, close-combat units with impunity
– Vulnerable to attacks from enemy aircraft
Dwarven Mobile Stronghold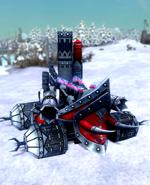 This creation of the undermountain people is more than just a fortress – it is a true mobile stronghold! Most engineers would give anything to learn the secrets of this expertly-crafted device, but the dwarves guard their secrets as closely as their coin. Only the dwarves are capable of building such powerful and maneuverable battle vehicles.
– Great long-range power
– Efficient against armored targets
– Well-armored
– Average speed and cross-country capability


Monsters
Wild Ogres
In ancient times, these huge and savage men inhabited the territories now known as Leranse and Mirralia. However, few people could accept their presence and the ogres were hunted down and killed. Faced with imminent annihilation, the ogres were forced to join the rest of the giants in the distant woods and swamps beyond the mountains of Tarndorin. The central kingdoms are rife with rumors that ogres still plague their native lands with devastating raids.
Possessing incredible power and wielding entire tree trunks as bludgeons, ogres pose a great threat to any enemy who dares to meet them on the field of battle. Indeed, some would argue that their sole weakness is their lack of armor.
– Strong attacker
– Vulnerable to ranged attacks

—
Zombie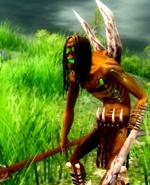 After the dreaded demon Farrakh was slain, his immortal soul was dispersed throughout Sumgan, corrupting the land and the very essence of magic. Those who were weak in spirit could not resist this transformative power. Simple peasants and reservists have been turned into zombies, with dead souls and bodies that obey the last wish of the demon: bring death to all living things.
– Weak attack unit
– Reduce attributes of neighboring enemies
Spectral Dragon
Called forth from another world, the specter of a fallen dragon will perform any order. After fulfilling its intended purpose, the spectral dragon will pass into nothingness once more.
– Scout and interceptor
– Will perform as commanded and then vanish