CONDITION GREEN: WE DON'T HAVE TO KILL J.J. ABRAMS
In another reality not necessarily so different from our own, it might have come to that, you know; if J.J. Abrams had loused this one up… oh man, I don't even like to think about it.
Happily for all involved, director J.J. Abrams (Mission Impossible III, Lost, Cloverfield) has artfully dodged that particular photon torpedo with his high-energy, sexed-up (and at many unexpected moments, surprisingly funny) blockbuster cinematic sci-fi re-boot, Star Trek. Us Trekkies and Trekkers—there is a difference, don't even get me started—have been waiting for just this kind of hip, savvy resuscitation since, oh, about nine minutes into the cringe-inducing Star Trek V.
Mind you, we all keep William Shatner near and dear to our hearts and always will — but honestly, many of us simply pretend that Trek V never happened. Nope, negative, nuh-uh, la-la-la-la-I-can't-hear-you, just flat never happened. In our personal time-lines, things just went "blip!" right from time-snatched whales of San Francisco to The Undiscovered Country's topical—and entertainingly-bitter—glasnost-in-space routine. All the crapola in Trek V? Rocket-boots, second-rate recycled effects and "Row, Row Your Boat"? All of it, round-filed straight into the nearest handy singularity on general principles. And even after that, it was a pretty bumpy, uneven, decaying-orbit movie-ride, right into the 'Next-best Generation,' too. Oh well.
Thank the Great Bird of the Galaxy, J.J. Abrams' new Trek makes up for all of that, in a single fell swoop of 126 minutes (and it feels like less). Via a single plot-point of this origin-story rework, the film manages to give a completely fresh take on the Star Trek universe. All of these main characters, particularly Kirk, Spock and McCoy, are certifiably iconic by this point, leaving the incoming actors with some mighty big Starfleet boots to fill—and to a man/woman, they do a stellar job.
Chris Pine (who played the easy-going, long-haired, surfer-dude son to Bill Pullman in Bottle Shock) slips effortlessly into the role of Kirk like it was a custom-tailored, comfortable tunic; better still, since this is partly the story (or rather, one possible story) of how the Enterprise crew comes together, we get to see Kirk in his pre-Academy days—all cocky flash, goofy girl-chasing charm, and defiant, square-peg idealism (coupled with just enough occasional humanizing, rebel-without-a-clue flashes of inexperience and immaturity. Chris Pine's James Kirk is a hero we can rely on, look up to, sympathize with, drink with—and go back-to-back in a bar-fight with, if it comes to that.
As Spock, Zachary Quinto not only looks eerily like a younger, buffer Leonard Nimoy, but makes the stoic Vulcan character totally buy-able and relate-able to a sophisticated and perhaps cynical audience. Just because you're supposed to be largely free of distracting, irrational emotions, it doesn't mean you can't display a certain, steady stream of deadpan, coldly-logical wise-assedness in response to the human buffoonery going on around you. Even more to the point, there's a big, ballsy plot-bombshell dropped halfway into the film that requires him to show—or in this case, appear not to show—some serious, heavy-duty emotional turmoil. It's a tough dramatic line to walk, and Quinto sticks all of his pointy-eared landings (And oh hell yes—Nimoy is in there, too. Our entire theater-balcony actually broke into applause the first time he showed up.).
Karl Urban and Simon Pegg, as "Bones" McCoy and "Scotty" Montgomery Scott, bring a lot of comic relief, and seem to be in some kind of undeclared competition to steal the show and/or get off the funny lines. Sulu was always rather the quiet one on the original TV series (except for that one out-of-character, take-after-the-captain-with-a-sword flipout), and John "Harold" Cho does an admirable job with a comparatively-lean role here (although he does have some badass hand-to-hand combat moments; hopefully, he'll be given a little more to do in the next Star Trek movie…on which Paramount had goddamn well better already be working). Zoe Saldana, meanwhile, pulls off a dead-on (and incredibly hot) Uhura, and Anton Yelchin's baby-faced Chekov—well, hell, there just isn't a false acting note in this whole film (although Eric Bana keeps his bad-guy Romulan surprisingly reined-in….for, you know, an obsessed psychopath walking in Khan's considerable antagonistic shadow)
I won't belabor you with another 2000 words on the eye-dazzling CGI and awesome, jaw-dropping starship combat (although I could). Suffice it to say that Trek obviously takes some of its gritty cues from what is probably my second-favorite, sci-fi outing (and was certainly the best thing on TV there, for a while), the re-boot of Battlestar Galactica—and that is a very, very good thing. Like the much-hailed Star Trek II: The Wrath of Khan before it, Star Trek does a straight-faced, military take on the mechanics—and horrors—of ship-to-ship space combat. No goofy, nonsensical biplane-inspired maneuvers, 'trench-runs' or comic-relief 'droids, but believable displays, panicked cross-chatter, batteries of point-defense gatling phasers chewing up incoming fragmenting warheads. Don't forget scared personnel panicking from their posts, burning up, and getting blown out compromised bulkheads to die in silent, hard vacuum (of the many things Star Trek has taught me, I wouldn't ever want to work in the engine, warp-core or fire-control section of a starship, Federation of otherwise).
TREK, DRUGS AND ROCK 'N ROLL
Many of us are certainly thinking it, but front-man "Captain" Karl Miller of the Star Trek rock band Warp 11 (of course there's a Star Trek rock band; don't be an idiot) just comes out and says it: "It was a lot better than the last 10 Star Trek movies!". Just days before the new Trek film hit theaters, Warp 11 released their 5th studio album, I Don't Want to Go to Heaven As Long As They Have Vulcans in Hell (Reboot Music). Warp 11 is Star Trek, sex, alcohol, rock and…well, and that's pretty much it. To quote one space-alien who has adapted to Earth life particularly well: It's a good thing.
Much like the band has been doing since 1999 (suck it, Moonbase Alpha!), the new Abrams film brings a decided, rocking energy to the Trek 'verse (bonus points to J.J. Abrams and creative crew for the scene of a snot-young James Kirk rocking out—at ninety-eight-per, in a boosted car—to the hundred-year-old Beastie Boys jam "Sabotage"). It's only fitting and proper that the four members of Warp 11 saw a screener of the movie before its theatrical release. Warp 11 have compiled their, um, Data and passed their judgments on the movie:
"Chief Science Officer" Kiki Stockhammer (keyboards, vocals):
"I walked out of the new Star Trek movie and said…"Boy, is it a good time to be in a Star Trek band!" The new movie has it all…comedy, sex, a great story, drinking, good acting, ACTION!, a groovy soundtrack, and characters that I cared about. Warp 11 matches those qualities….we too are primed to meet all the new fans of this new generation of lovers of Trek. I think Gene Roddenberry is happy as hell somewhere in the cosmos, laughing his ass off and enjoying all the creative endeavors that have spawned from his adventures of Captain James T. Kirk, Spock and the rest of the crew. As Chief Science Officer of Warp 11, I am proud to say that I am ready to "punch it" and go where no man has gone before!"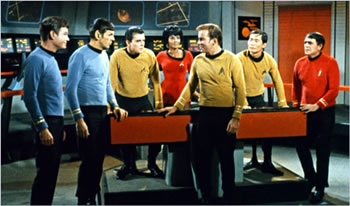 "Chief Engineer" Brian Moore (vocals, guitars):
"It's about time that a sci-fi movie presented the perils of space exploration as something that could make you crap your pants."
"I'm appalled at the lack of angled sideburns in the movie."
"We've got all these songs about Klingons—so of course, Romulans end up being the bad guys in the movie. Thanks, J.J."
John "Number One" Merlino (vocals, drums):
"I'm a Star Trek purist. I'm re-watching all of [the original series] right now. And I have to admit that I was concerned that J.J. Abrams would take something that I really enjoyed and turn it into yet another carbon-copy action movie with explosions but no substance. But thankfully, it was all wasted negative energy. I loved it! He probably could have lost the pointed ears, and I would still have had a great time."
KILL, KILL, KILL, KILL, KILL, KILL…UH, ROMULANS?
It's a good day to Trek in at least one other quadrant, too. Any day now, developer Naked Sky and Bad Robot Interactive are slated to release Star Trek: D A C for XBLA (and, hopefully not long thereafter, for PSN): It's an accessible, top-down multi-player starship brawl-fest based on the conflict between the United Federation of Planets and the Romulan Star Empire (since the Romulans are—at least for the new movie—the bad-guy flavor-of-the-month). For more in-depth info, you can check out our hands-on preview. Given the hype (and evident critical, across-the-board success) of the new movie, it's a little disappointing that there aren't more proper, A-list, major-console Trek titles in the works already (maybe it's time we checked back in with Star Trek Online). In any case, here's hoping that the game-developing powers that be rev up their warp cores and make it so.
One thing for sure: After a fairly miserable series of years there, it's once again a good day to be a Trekker: Drink up, live long, and punch it.