Every year I write hundreds of thousands of words, but these are always some of my favorites.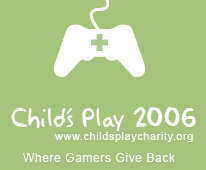 In 2003, Gabe and Tycho over at Penny Arcade were as frustrated as the rest of us gamers being vilified by the ignorant media. The difference was that they decided to do something about it, and they created the Child's Play charity.
The Game Revolution staff is proud to have contributed every year, and last year Child's Play raised over $600,000 in games, toys and money for sick kids in Children's Hospitals all over the U.S., and this year, in countries around the world.
Now it's your turn. GR has always been 100% free to read, so we'd like you to take some of that money you saved and pick out something for the kids. No excuses, there are items in there that are under $10 and come with free shipping. Every donation makes a sick child just a little bit happier.
So go do it now, your quest is clear. There are little gamers out there that need your help.